Television has skewed my view of Thanksgiving.
As a kid it was Charlie Brown's Thanksgiving. Snoopy unapologetically served toast, popcorn, and jellybeans. So I was pretty upset to see none of these options on my own family's turkey day table.
As I grew older it was the Full House men talking the first Thanksgiving without the late Mrs. Tanner. High School Thanksgivings on TV looked like Dawson's Creek and Gilmore Girls. Looking back, those likely had an influence on why I planted roots in a small New England town.
Next, I learned about "Friendsgiving" from (where else?) Friends. 
We started a pre-thanksgiving tradition with the then-culinary impaired college pals. Senior year we even  made sure our off-campus apartment had an oven to cook the turkey and a fridge to hold the libations. But the tradition faded as we graduated, relocated, married, and reproduced. Though one of those guests still has my All-Clad serving spoons. Just saying…
Of course my actual childhood Thanksgivings involved family, at least 2 meals-one at each grandma's house-and a pie stop at both my Aunt's and my forever friend's parents' home. Lasagna and lemon meringue were on the menu. A Macy's day parade trip was speckled in and after settling down I had several meaningful and delicious dinners with The NJ Gilmore tribe. All were beautiful days, but none looked like TV.
Once I had kids, Thanksgiving  didn't look like my television favorites at all.
There was struggle, boredom, loneliness, and the type of family togetherness that only happens with the small child-tired adult combo. Last year it involved a standoff between my husband and my oldest to eat anything on his plate. I think he was looking for Snoopy's specialities, too.
Let's Be Honest.
If Thanksgiving is about gratitude and togetherness it is not going to look like TV. It probably won't be as funny, as sweet, as tasty (why are those turkeys so gold and shiny?), or even as memorable. No one will get a turkey stuck on her head. I doubt my children will eat anything apart from GF rolls and pie. To be honest I hope we just survive without it coming to fisticuffs.
Because my real life doesn't look like TV, either.
And that is more than ok. It is something I am grateful for each and everyday.
This year I am thrilled to be sharing Thanksgiving with friends who quickly became family. One of the best parts is that even if more turkey gets thrown than eaten, I know we can come together with an understanding the honest trumps perfect. Every single time.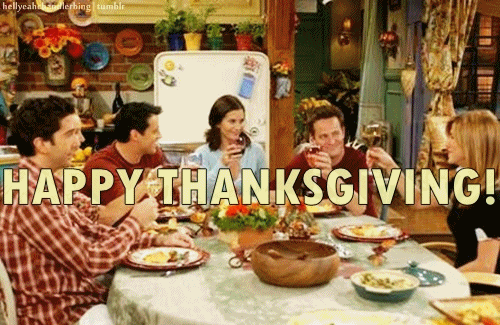 ***I'm in the process of revamping this site to reflect a broader array of topics from a viewpoint of honest balance. There will still be a good deal of from the trenches parenting stories and struggles, but I am also hoping to bring in other ways I see 80/20 balance in my life. The goal is to include posts with recipes, wellness-base home and health ideas, and self-care tips as well as reflections about fostering my own growth while raising kids. I will keep posting and podcasting in the mean time, but you can expect the range of post topics to expand in 2018. Stay tuned 🙂
SaveSave